Leveraging Bloom's taxonomy is an effective way to strengthen your course content and student participation. Bloom's taxonomy is a set of models used to classify educational learning objectives into complexity and specificity levels. The list covers the learning objectives in cognitive, affective, and sensory domains.
Creating dynamic content following Bloom's Taxonomy allows you to achieve three things:
Create clear objectives or learning goals: These are important to establish a pedagogical exchange so that teachers and students alike understand the purpose of that interchange.
Organize objectives: Helps to clarify objectives for educators and for students alike.
Helps educators to:

"plan and deliver appropriate instruction";
"design valid assessment tasks and strategies"; and
"ensure that instruction and assessment are aligned with the objectives."
Bloom's Taxonomy consists of six major categories: Remembering, Understanding, Applying, Analyzing, Evaluating, Creating. In this blog, we cover all six categories using CampusKnot.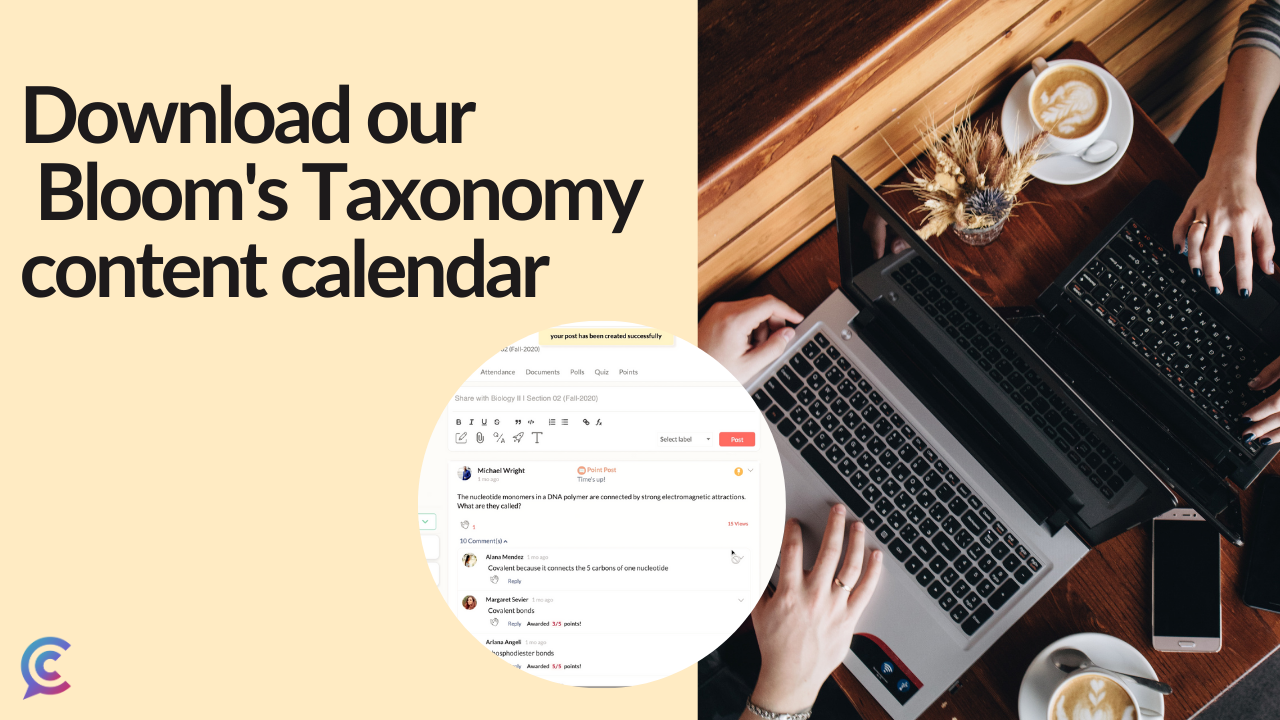 Creating fun and inclusive activities is one of the best ways to engage and spark participation in any course environment. We mean it! Whether you are teaching in a hybrid, online, or face-to-face course the Bloom's taxonomy helps build activities with clear objectives.
In summary, we will be showing you how to create activities inside CampusKnot following this framework.
Ready? Let's go!
Below each level, you will find a list of actionable verbs you can use to create objectives + activities you can create inside CampusKnot following each level.
Level 1: Remembering
Remembering recalls for facts and basic concepts. Refers to a student's level of memorization and recognizing. A recent study by Vanderbilt University found that questions within this category are used about 80% to 90% of the time. First, start your activity by using an actionable verbs.
Activities that follow the remembering level:
Actionable verbs: recognize, site, define, list, describe, recall
Inside CampusKnot: Create a multiple-choice poll and use an actionable verb. Make sure you add visuals or videos to add a level of complexity and guidance.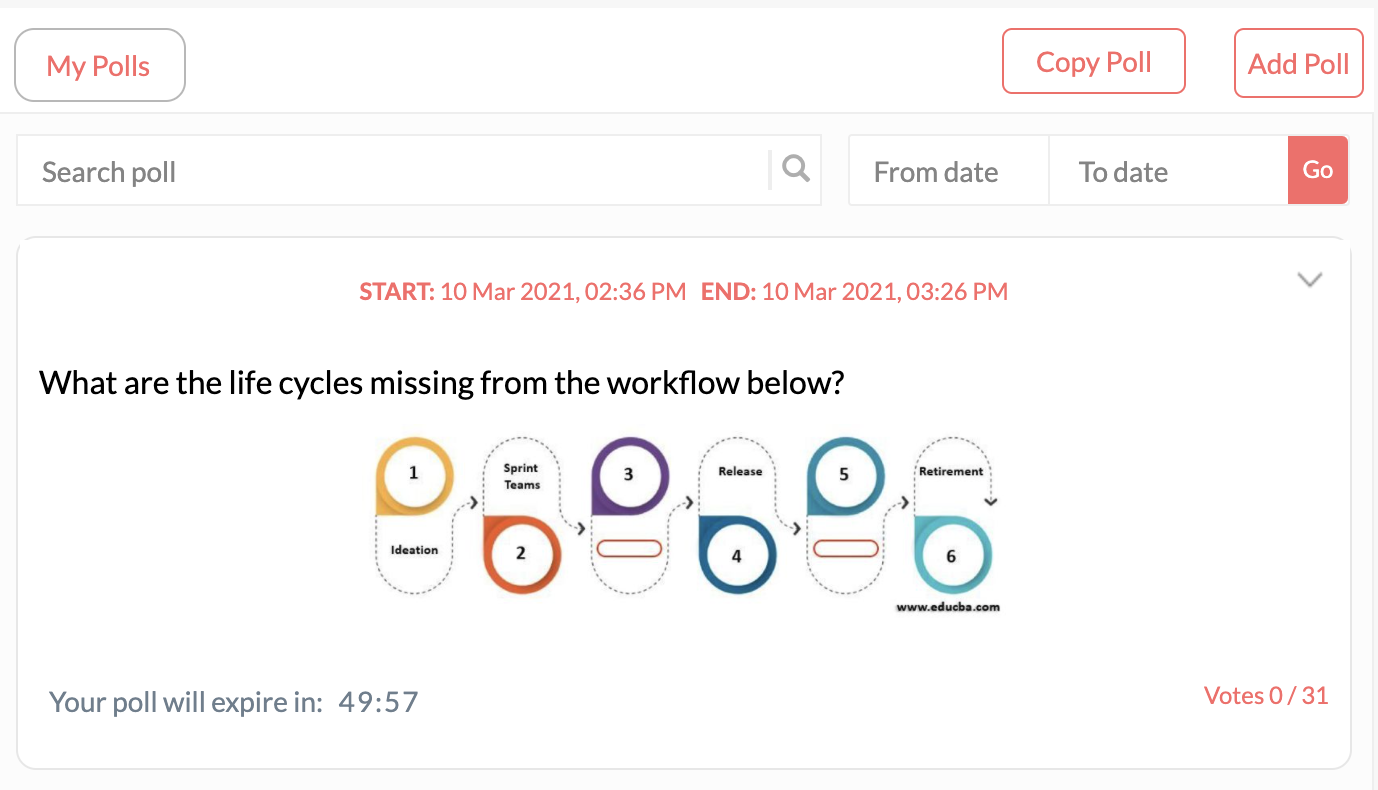 Level 2: Understanding
Understanding is used to explain ideas or concepts. A great way to test this category is by implementing a flipped learning approach where students are asked prior to class time to ask questions inside the group feed related to previous lectures.
Activities that follow the understanding level:
Actionable verbs: classify, discuss, explain, locate, select, interpret, exemplify, summarize, compare, explain
Inside CampusKnot: You can create a participation post before class starts. If you're trying to figure out whether your students understood concepts or ideas previously discussed in your course, a feed post inside the group can help you analyze what students are thinking without putting anyone in the spotlight.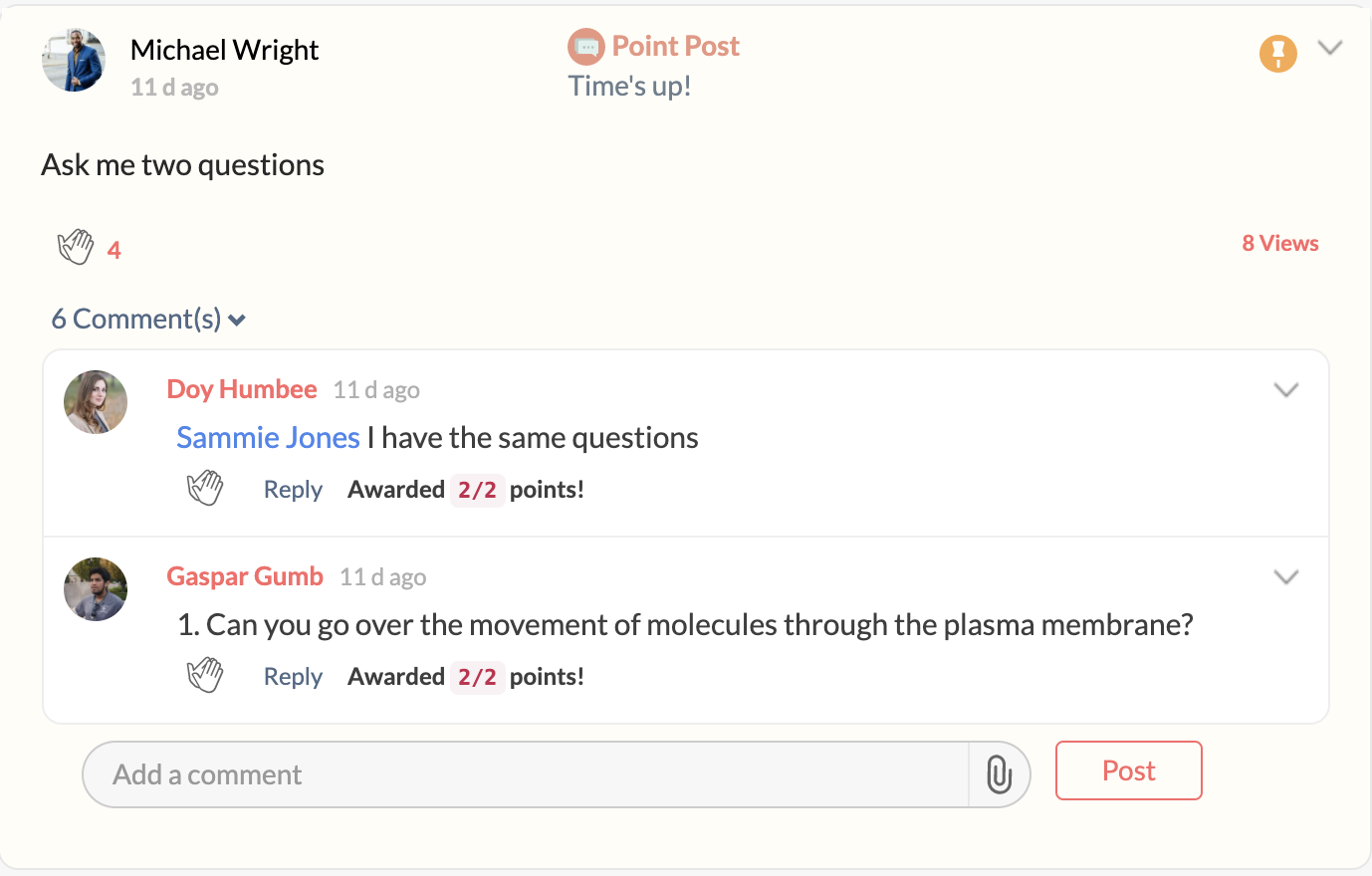 Level 3: Applying
Applying uses information in new situations. ✨The Applying level works great for small to medium size (25-75 students) courses. Why? Because you can break your class into sub-groups a lot smoother while keeping students comfortable.
Activities that follow the applying level:
Actionable verbs solve, implement, demonstrate, predict, implement, execute.
Inside CampusKnot: Here is an example of a think-pair-share activity you can do in any course. Here is how a language course used the CampusKnot Documents to get their students to participate with one another.
Level 4: Analyzing
Analyzing draws connections among ideas.
Activities that follow the analyzing level:
Actionable verbs: identity, compare, differentiate, organize, attribute
Inside CampusKnot: You can create an anonymous poll, so students feel less intimidated in giving feeback, sending suggestions, etc.
Level 5: Evaluating
Evaluating helps students justify a stand or position.
✨Pro tip: Keep in mind activities are not limited to only in-class or class recordings. A great way to evaluate students understanding of the material is by using an end of the week participation poll.
Activities that follow the evaluating level:
Actionable verbs: defend, support, interpret, conclude, check, critique
Inside CampusKnot Make sure to first start your poll with 'I can..' Give students options to choose from and award them for participation. Have the option for them to choose between objectives, and also create an 'I don't know' section.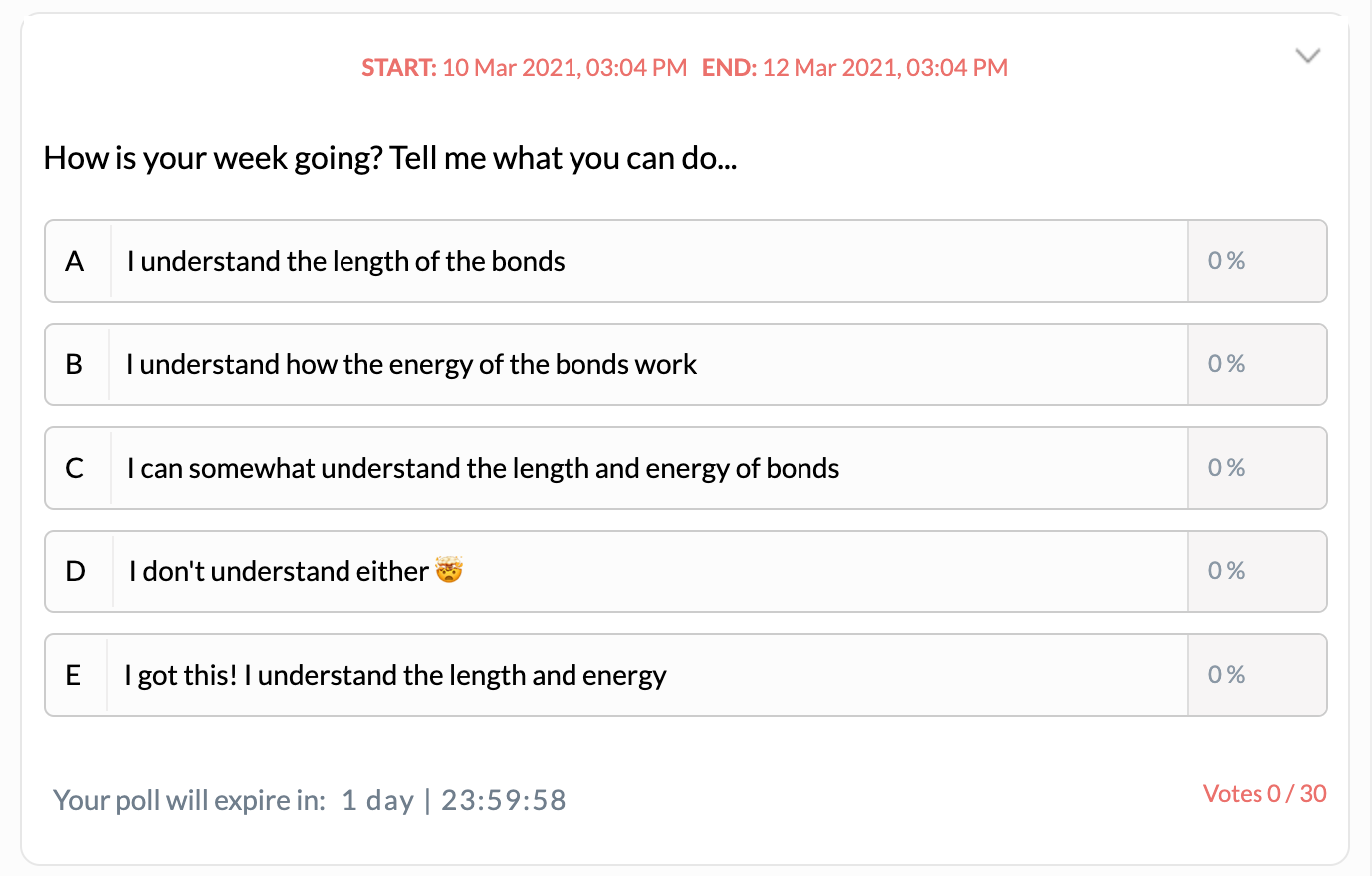 Level 6: Creating
The creating category allows students to produce something new.
Activities that follow the creating level:
Actionable verbs: design, construct, develop, conclude, investigate, plan, produce
Inside CampusKnot: Here is a fun activity to get students' creativity out. Create a feed post and ask your students to create their own MEMES or generate their own GIF. You'll be surprised how much fun and insightful it can be for your students. To add GIFs click here . If you would rather create your own MEMES for free click here.
Now that you're an expert on Bloom's Taxonomy, you're able to create fun activities using your CampusKnot account. If you need a little help creating lessons to go with the taxonomy levels, download our content calendar guide to learn how to create and organize activities for your week. Happy creating!