Overview
Course: General Chemistry labs

Number of students: 1,500

Modality: In-person

Sections: 16
Course Context:
Professor Brown learned about CampusKnot her first semester of teaching. She used the CampusKnot feed to communicate and engage with her students and teaching assistants. This "mega course" was divided into two sections, one of 1,000 students and the second one of 500 students.
Building Community with Feeds
Students were encouraged to collaborate and help other classmates by answering and posting questions related to course material. Professor Brown noticed an increase in student rapport and a decrease in emails and direct messages inside her learning management system from her students.
If you're a faculty member with 1,000 students, your email gets overwhelmed very quickly. If I was in CampusKnot, I didn't have to worry about other faculty messaging me.

Professor Brown
Students could discuss lectures and course assignments and ask questions directly to their teaching assistants and Professor Brown inside the CampusKnot feed. One of the most significant advantages of using feed-driven technology is that students can ask questions without feeling intimidated.
The feeds were most important to me because it made assignments easy to access and easy to ask questions.

Harper, Chemistry 1 student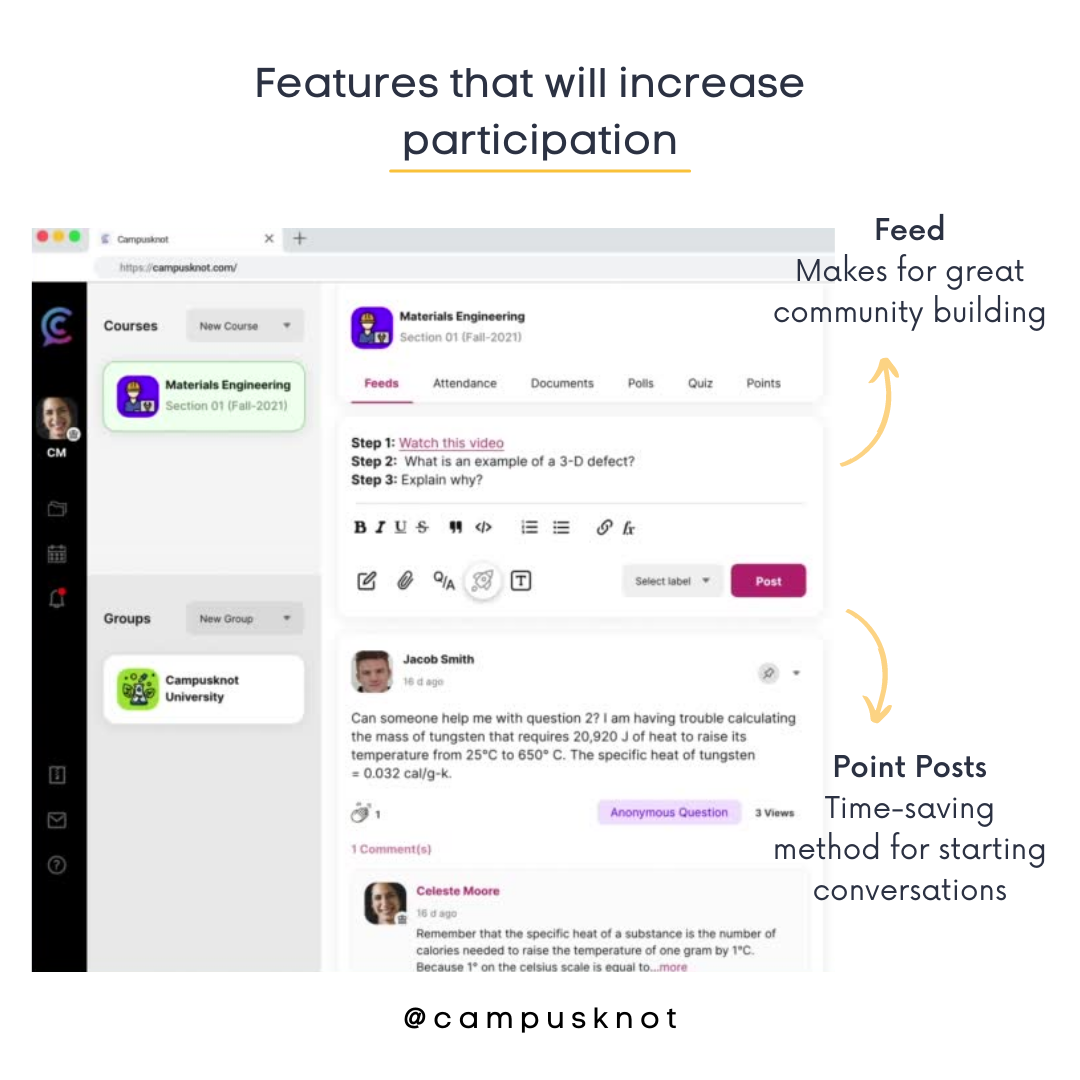 Inside CampusKnot, students can post anonymous questions, select tags -the equivalent of hashtags created by professors, and mention multiple peers at once. Course success goes beyond instructional material. CampusKnot allows students to engage in a relatable and modern way freely.
Gaining feedback through polls and office hours
Professor Brown encourages students to submit polls and join her office hours so that students could gain agency. Inside CampusKnot, students can book 1-on-1 sessions with their instructors without having to rely on email to see whether their instructor is available.
CampusKnot enables me to communicate with all on a platform they are more likely to read and engage with.

Professor Brown
After using CampusKnot for a semester, some of her previous students enrolled in her Chemistry 2 class asked, "are we going to use CampusKnot again?"
Outcomes:
Decrease in email inflow from students. Inside CampusKnot, students could communicate and collaborate with their peers, even in a section of 1,000.

In a survey conducted at the end of the semester, 85% of students admitted they enjoyed using CampusKnot.

In both sections, 45% of the students agreed that the CampusKnot Feed was the most helpful tool.