Overview
Course: Organizational Behavior

Number of students: 50

Modality: In-person

Sections: 1
Course Context:
Dr. Jake Smith started teaching in 2018 and noticed a difference in the course environment from when he was in school. After attending a research conference, he learned about CampusKnot's participation tools.
Early on, Dr. Smith noticed the importance of adopting technology to allow for inclusive conversations and interactions amongst his students. His class was held in person, with 50 students attending class twice a week.
The perfect trifecta
Dr. Smith faced a challenge when trying to "get students engaged day-to-day. With a new generation, old teaching methods will not suffice to get students to participate."
As a relatively 'new' educator, I encountered many challenges in the classroom in working with students. Finding ways to get them engaged day-to-day was one challenge. Objectively rewarding students for showing up and engaging was another challenge.

Dr. Smith

Therefore, he created a class around rewards-based activities, where students earned points based on group work, collaboration, and individual feedback collected with the Polls. Dr. Smith chose to use a set of CampusKnot tools in his undergraduate course that would allow him to gain feedback, track attendance, and reward participation in his Organizational Behavior class.
Implementation:
Dr. Smith introduced a combination of attendance, feeds, and polls. In a semester, he saw increased feedback, class retention, and meaningful interactions amongst students. The feed was a way "to instantly communicate with students within and outside of the classroom." The CampusKnot feed became the place where students introduced themselves and collaborated on specific projects.
One of the students' favorite activities revolved around introducing themselves to the rest of the class, and building a sense of community from the first week of classes. Over 80% of students admitted CampusKnot helped them feel more comfortable when participating than on discussion boards on other platforms.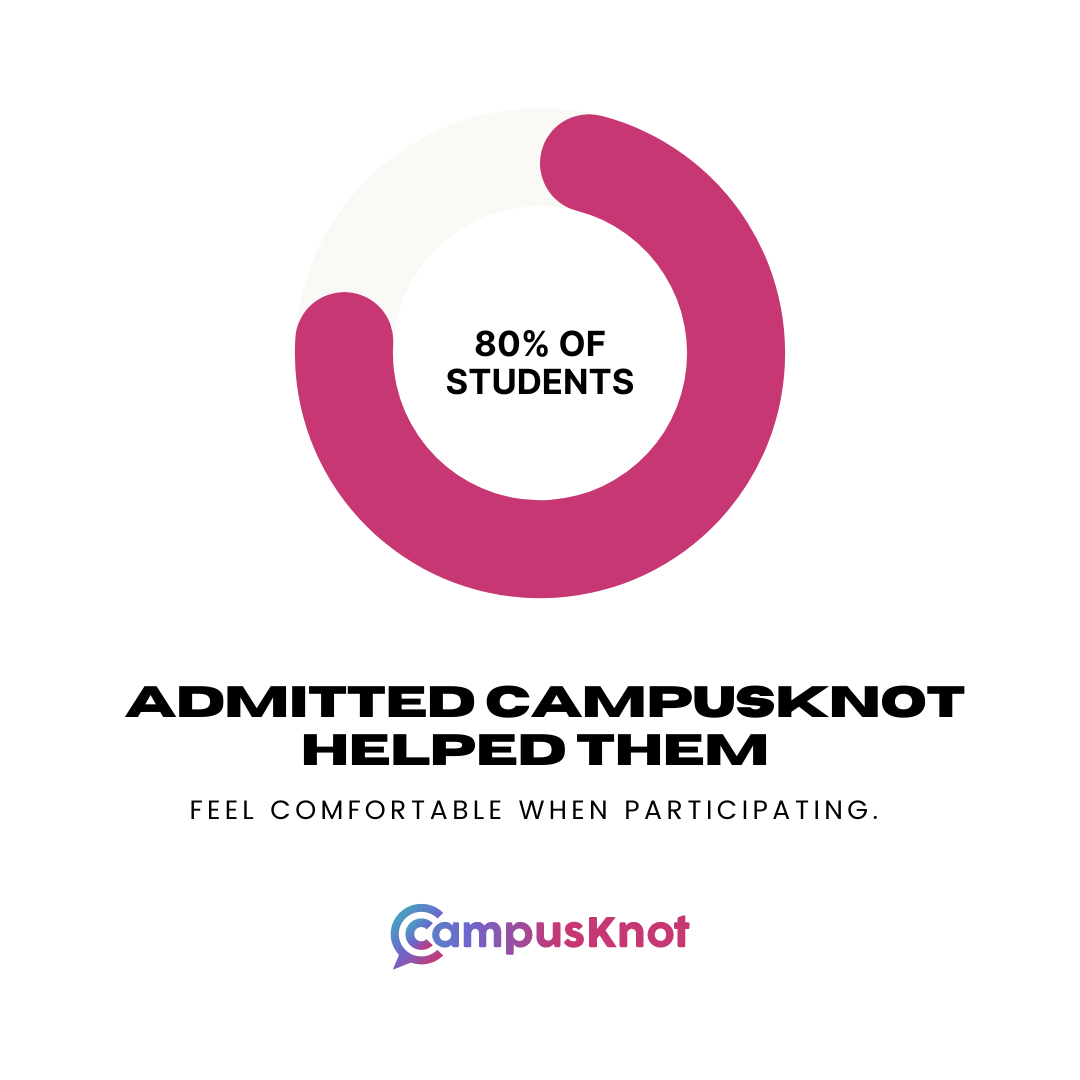 This program has been easy to navigate through, and I like how interactive you can be. CampusKnot has helped me in this class because I was able to learn from my peers' comments and posts.

Kayla, Org. Behavior student
Attendance was taken at the beginning of every class; students were rewarded for attending class. Studies show that attendance is a fundamental factor for college success. Taking attendance allowed Dr. Smith to deploy polls only for those present in class.
Students were responsible for answering 3-4 polls during class. Dr. Smith created polls around several case studies students were responsible for solving throughout the lecture. However, as the semester progress, Dr. Smith noticed that his students seemed to preferred CampusKnot's anonymous poll types, "particularly when I run anonymous polls where students can freely and openly ask and respond to questions."
Keeping up with rewards:
The simplest way to keep up with the participating health of the class is through the CampusKnot Points. Inside this tool, Dr. Smith managed attendance automatically and kept track of the participants based on the tools used. Another significant advantage was viewing class top performers and those who needed assistance.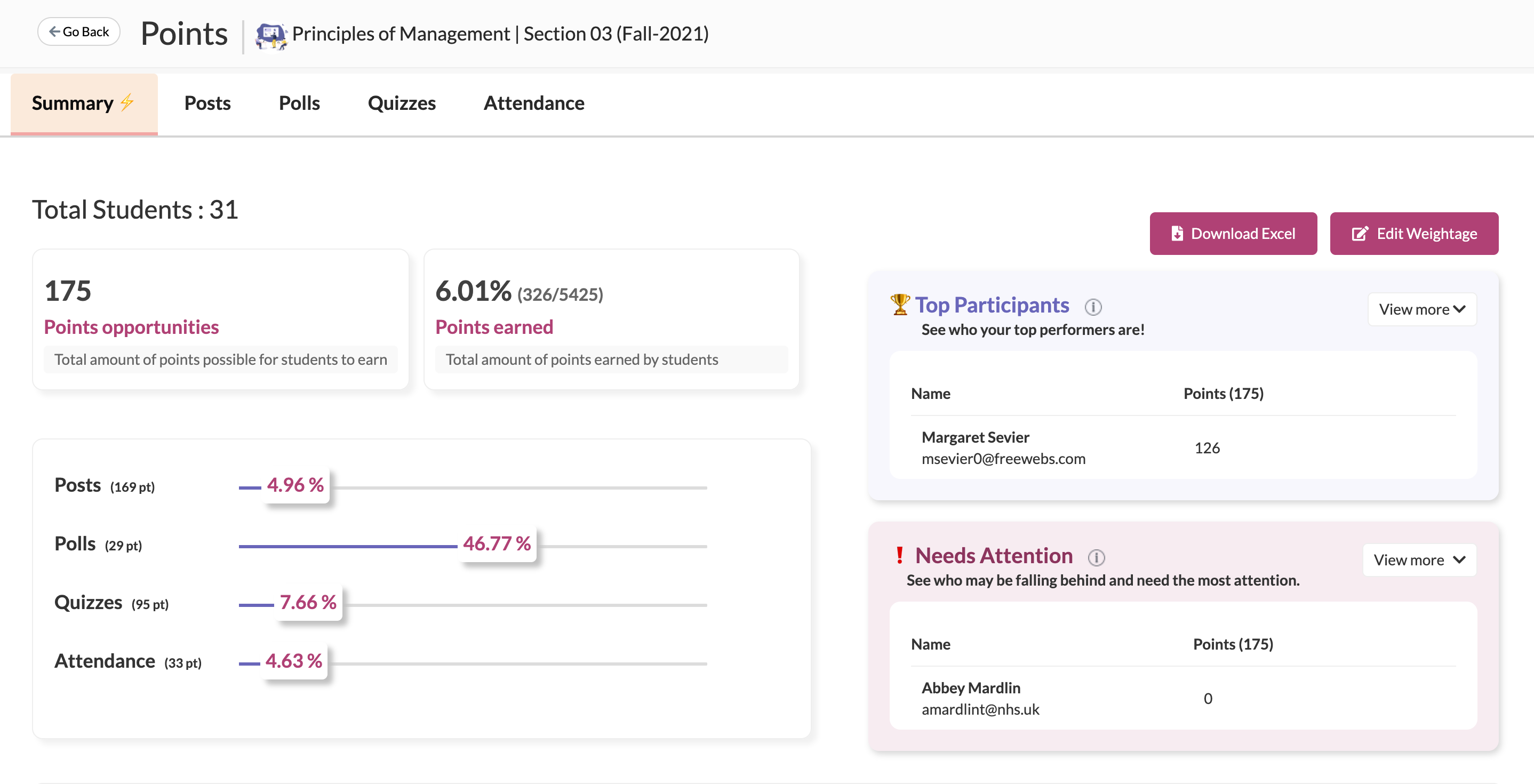 Outcomes:
One unanticipated outcome I've seen with using Campusknot is the simple fact that students notice that I'm trying to find new ways to engage and connect with them to enhance their learning experience. I think students perceive that extra effort and attempt to 'try something new' and, in turn, view even foundational content as 'novel' rather than 'aged.'